How do I get a good night's sleep when I'm out camping? It's a question we get asked all the time. Perhaps the better question is which camping bed is right for me?
Like most things in life, not all camping beds are created equal, and there are pros and cons to each type of bed. Be that weight, space, how cold they are or how comfortable they are.
Broadly speaking, there are four main types of camping bed setups for different settings:
Roll mats – good for overnight, festivals, and friends' floors. Good for hiking and backpacking camping.
Self-inflating mattresses – the most versatile of beds. Good for all types of camping, from family camping to ultralight backpacking.
Air beds – super versatile good for car camping, festivals, friends' floors, and family camping. There's a new class of ultralight airbeds which is specifically aimed at hikers, backpackers, wild campers and ultralight fans.
Camp beds (we're putting fishing bed-chairs in this category too) – can be really comfy, good for car-camping and guest beds.
A bonus added extra is the hammock, we'll be discussing hammocks at the end, but we're betting most of you won't be using one as your main camping bed.
Camping beds: the low down
Which bed you chose depends on a number of factors: what sort of camping ill you be doing? How heavy do you want your pack/bag/car to be, and how comfy do you want to be?
Here's a quick rundown of each type of camping bed setup with their pros and cons.
Roll mats
When we're talking about roll mats, we mean the foam roll-out mats, not self-inflating mats.
Pros
Cons

Generally very cheap
Very lightRoll up easily
PortableSold in many places throughout the season (including supermarkets)
Waterproof (most of the time)
Come as part of a lot of "starter kits" for camping

Generally very uncomfortable
Not much insulation
The cheaper the mat, the thinner the foam
Bulky to carry
Definitely not a good option for multiple days' camping
Self-inflating mattresses
These have become really popular over the years and range from the thin and light ¾ versions right up to the 10cm thick memory foam double flocked mattress I've always wanted!
Pros
Cons

Can be really comfortable
Can be quite warmGreat for all of the family, kids and adults alike
Variety of sizes and price ranges to suit every budget and camper
Some can be packed very small
Some can be incredibly light for what you get

Can be very expensive
Can be bulkyCan be heavy
Thinner or cheaper ones can be uncomfortable
Airbeds
Not all airbeds are created equal. There are generally two types of airbed: the standard air mattresses bought anywhere, and the ultralight roll-out air beds. Due to both of these being very different from each other, we've got two tables below!
Standard air mattresses
Pros
Cons

Comfortable
Easy to blow up and let down
Comes in well-sized singles and doubles
Fits standard fitted sheets and duvets
Perfect for all members of the family
Great as a spare bed

Rarely lasts more than a few tripsVery delicate (punctures easily)
Heavy
Bulky
Can be quite cold
Needs an external pump to inflate (or a lot of breath!)
Not so great for two adults on the heavier side
Ultralight air mattresses
Pros
Cons

Pack up incredibly small
Ranges from light to ultralight
Very comfortable for the package
Small enough to fit in even tiny tents

Usually very expensive compared to other alternatives
Not always as comfortable as some campers make out!
More delicate and susceptible to punctures
Needs inflating
Camp beds
Camping beds range from super expensive to fairly inexpensive, and the comfort levels go from horrible right up to swap my bed at home! We're also lumping fishing bed-chairs in this category. Although they are slightly different, they're very closely related.
Pros
Cons

Can be very comfyGreat as a spare bed
Layering beds is possible for a more comfortable night's sleep
Space underneath can be utilised in the tent
Options for double camp beds

Very heavy
Very bulky, definitely not for hiking!
Can be uncomfortableMay damage tent floors
More comfortable beds (and bed chairs) can be very expensive
Can be very cold underneath
Hammocks
A bit of a bonus addition is hammocks. Whilst hammock camping is becoming more popular in the UK, it's definitely not a regular option for most people.
Pros
Cons

Can be really comfortable
Can be packed up light with a tarp to reduce packing

Can be very cold
Requires a specific and safe setup
Really needs to be paired with another mattress underneath
Needs an under-quilt or similar for comfort
Options for double sleeping is limited
The best camping bed setup?
The best setup depends on where you're camping and how heavy you want your bed to be. After having a look through the above it might be a bit confusing, so here's our opinion on different scenarios:
Guest bed/Friend's floor camping
Standard air mattress. They're cheap, available pretty much everywhere and they're really comfy. Indoors you're not worried too much about warmth.
Camping in the garden in summer
Standard Airbed or camping bed. Camping beds are more expensive than airbeds but they're comfier. You can also pop lots of blankets, duvets and pillows on each to up the comfort levels!
Overnight or festival camping (arriving by car/coach)
Standard Air bed or a self-inflating mattress. Go for comfort here, you'll probably be a little more limited on space so we'd caution towards self-inflating mattresses, but if you're driving to your pitch, then an airbed in the summer will be the most comfortable.
Hiking, backpacking, or space limited camping
Ultralight Airbed or self-inflating mattress. You'll be compromising comfort over weight and space here so choose wisely. It's a personal choice whether you decide to go for a bulkier but more comfortable mattress over a lighter and possibly less comfortable bed.
Cooler or winter camping
Self-inflating mattress. Do not go for a standard airbed or any kind of camp bed. You'll actually be better off and warmer the less empty space under your body. A good quality self-inflating foam-filled mattress will be your best choice here. Add a reflective mat if you really want to, or even a space blanket underneath to reflect heat back in. Standard airbed and camping beds will be far too cold!
What is the most comfortable bed for camping?
In general, I find the self-inflating mats the most comfortable beds. One of our friends who comes camping with us regularly much prefers a standard airbed, some of our other friends prefer camp-beds. The choice really is personal.
To make your bed more comfortable, if you have space and aren't limited on weight, don't skimp on the blankets! Half of the "comfy" rating of a bed is how you feel when you're inside of it. Of course, if it's really cold you're going to be a bit more uncomfortable than if it's a nice temperature outside. if you have the space and the weight, go for a nice blanket or sheet under you, a few nice pillows, and even a duvet will make it comfier! I spent years car camping with a duck-feather duvet I bought from Aldi. It was LOVELY in the summer, but not quite warm enough in cooler times. Experiment away.
If it's your first time camping, try it in your back garden and go for all of the blankets. Build a fort. You'll love it!
How do you sleep warm when camping?
Sleeping warm whilst out camping is a big topic that really needs its own post. We covered it a little bit in this post, but we'll be doing a bigger post and even a video tutorial soon.
In short, it's all about the layers. Layer up as much as possible both in clothing and blankets. The general rule for blankets is double above to below. So if you are sleeping with two blankets on top, make sure there is one underneath, 4 on top and you need 2 underneath and so on.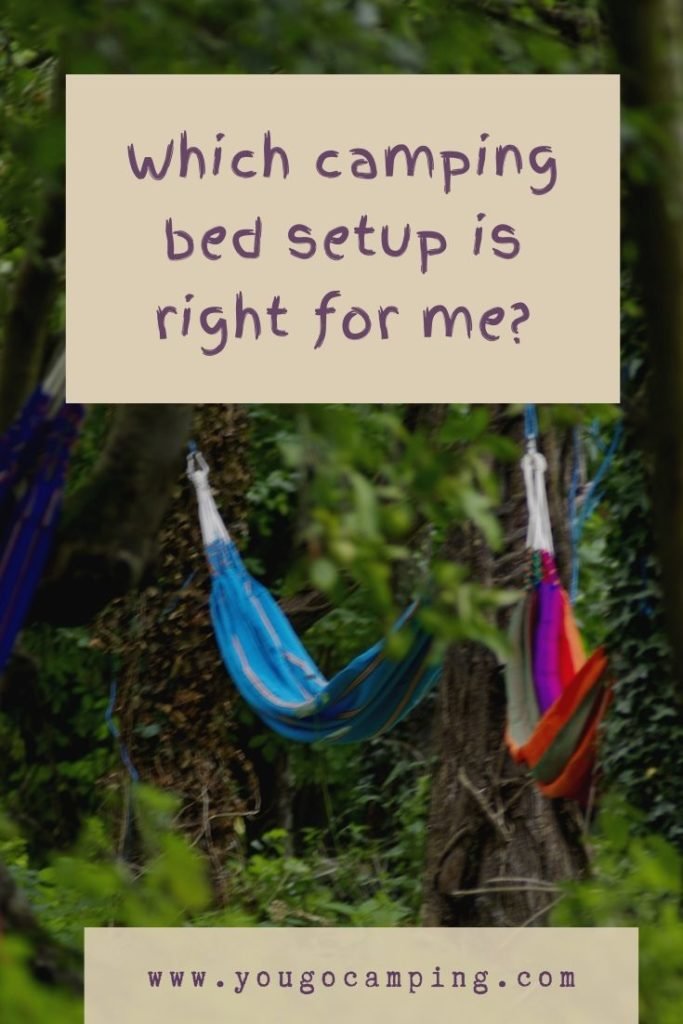 Make sure your clothing is dry. This is vital, always get changed into dry clothes to sleep. Never sleep in clothes you've been wearing all day. Warm dry socks (I love my merino SmartWool socks!), and a hat as you lose most of your body heat from your head and feet. Don't skip the hot water bottle either!
We hope you found this article helpful, if you did why not share it on Pinterest?